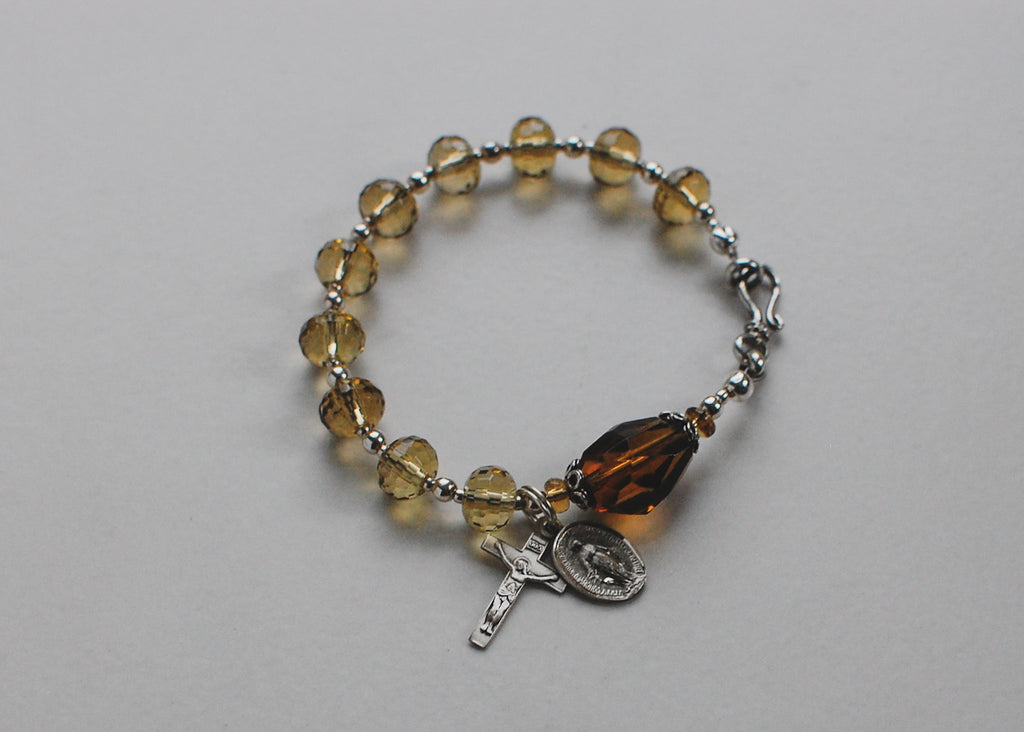 Have you seen Simple Rosaries' rosary bracelets? Are you wondering what exactly is a rosary bracelet and how are they made? This post is made to do exactly that!
When my mom first began her business, I was just a young girl who wanted to help out. She would hand me a tray with beautiful beads and some soft-flex wire, and I would get right to work. I regularly made beaded rosaries and bracelets for her business as I grew up, and there was always something so peaceful about the beading process that I loved. Today, I still get that peaceful feeling as I bead together rosary bracelets. It is truly a gift that I treasure. 
So what is a rosary bracelet? It's a question I get asked frequently. A rosary bracelet is a chaplet made into a wearable bracelet. It has ten large Ave beads, just like a chaplet does, and one larger Pater bead. It's an easy way to say a decade of the rosary, but also an elegant and feminine piece of jewelry for day-to-day wear. It usually features a floral clasp, and a crucifix and Miraculous Medal for contemplation as well as decoration.
How are these bracelets made? I had mentioned above soft flex wire, which is designed to bear 26 lbs. in weight, but is still as fine as silk, making it a durable and delicate beading wire. There are a variety of solid sterling silver beads used as spacers between the gemstones, as well as other smaller gemstone beads. It is all crimped together at the clasp and covered over with crimp cover for extra durability and security. 
Any rosary bracelet on my website can be adjusted to your preferred size. Simply add the rosary bracelet you like to the cart, place your order, and send an email to
info@simplerosaries.com
 with your desired length. If you have any other questions, feel free to send me a message! I'd love to hear from you and work with you.